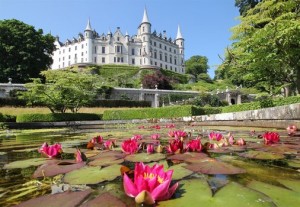 Tim Alexander and I first met in 1963 when we both arrived at Forest School in North London, Tim froma Somerset prep school and I as a greenhorn.  Previously Tim had taught at Strathallan, near Perth, where he was in charge of cricket.  This proved arduous as the Head, Wilf Hoare, a cricket fanatic, had a study overlooking the nets.  Most evenings Tim had to report the progress of the 1st XI players over several bottles of sherry – good training for a Sou'Wester.  Tim also taught French and German but he had no love of abroad and I don't think he ever visited the Continent.
We nearly met in 1954 – on May the 6th to be precise – the day when Roger Bannister ran the first 4-minute mile.  I, a schoolboy, was playing on the Lincoln College field and heard the shout that went up when Bannister's time was announced.  Tim told me later that he heard exactly the same as he was playing for Emmanuel against Lincoln.  He and I also remembered that Lincoln had a prolific under-arm bowler named Rodney Exton.  Old Sou'Westers may have come across him.  Tim was naturally right-handed but batted left-handed because during his National Service he was shot in the elbow by one of his own men so he couldn't raise the left arm high enough to play conventionally forward.  He was, of course, in the Irish Fusiliers.
Tim ran the cricket at Forest – his first two years appointing two subsequent Sou'Westers, Peter George and Tony Leek as captains – and also the Sylvestrians, an occasional staff, boys and guest team that often played at attractive Essex village grounds.  In 1967, both wanting a change, Tim and I applied quite independently to Dunrobin, a new school based on Gordonstoun principles set in a grand castle in the North Highlands.  It was tiny, never more than 75 pupils, and because of its remoteness and a downturn in the economy it only lasted until 1972, but we agreed that it was the best five years of our teaching lives.
In the bowels of the castle we found a 1920s scorebook recording matches between the Duke of Sutherland's XI and teams from Royal Naval ships which occasionally hove to offshore. We set about restoring a pretty field with the North Sea just over the wall – there was always a risk of 'waves stop play'.  Locals joined the boys and staff in a team that we felt represented Sutherland.  We conquered Caithness and regarded ourselves as North Highland County Champions.  Having played for the Cambridge University 2nd XI and Perthshire, Tim was a class above the rest of us.  [He was also a fencing Blue.]  By then he had years of Sou'Westering, usually with family in tow and best recalled by Chris Dean as follows:-
I first met Tim in the Fountain in Cambridge in 1958, taken there by ex-Junior Sou'Westers Tony Bland and Sandy Grant – son of "Ludo" Grant, landlord of a Sou'Wester watering hole (the club had run a Schoolboys side for a few games in the very early fifties). It was the first evening of the tour, and I had never seen a group so pleased to see each other – I particularly remember that it was the first time Tim and John Haynes had met since the latter's return from New Zealand, and while neither had a good word to say about the other, each was clearly delighted by the occasion. This was a key characteristic of the club over which Tim had such a powerful influence over the ensuing years – each April and late August we would foregather, and he radiated a benign confidence that being Sou'Westers, we could not fail to enjoy the coming tour; his enthusiasm, though never overstated, was infectious, and shared by his wife, Joan. All Sou'Westers were regarded as "family".
Tim must have first played for the club in '53 or '54 (he was elected to membership in '55), and in the early sixties, while he was Headmaster there, we stayed in Coker Court, and drank and skittled in the Helyar Arms; Tim and the Drake family held the club together, and continued to do so until gradually the Heazells took over the mantle. The records speak of the club captaincy being "in abeyance" from '61 to '68, but in effect the captain was A. P. F. Alexander. He played for the club well into his seventies, and his figures, though totally unimportant to Tim, speak for themselves. The game at Instow in 1969 very much reflects Tim's modesty in his achievements when, bowling unchanged from the pavilion end, he had taken the first nine wickets. The skipper, perhaps me, decided that I could be trusted not to bowl straight from the Lundy end, and for several overs I pushed an increasingly elderly ball eighteen inches outside the off stump while an increasingly fatigued Tim strove to finish off the innings. Eventually a particularly innocuous delivery of mine was nicked gently towards first slip – it would have arrived there on the half-volley. However, standing at first slip was an almost totally knackered Tim, who toppled (I use the word advisedly) majestically forward to measure his considerable length on the turf – clutching a cleanly caught catch. "Thank goodness for that!" he said. It now occurs to me that I cannot remember EVER having heard Tim swear – not even a "bloody" or a "damn" – am I making that up? Whether or not, he was a Gentle Giant in every sense.
Returning to John's recollection of Tim's life beyond the Sou'Westers, Tim loved Sutherland so much that when Dunrobin closed he stayed on as a shepherd and general farm worker at a meagre wage.  Eventually this life became too hard and he moved to Christ's Hospital, eventually as a housemaster.  Until 2015 he returned each year to farms in Golspie and Brora for lambing.  I was then at Strathallan and we set up a fitful correspondence.  We never came near the erudition of the Lyttleton-Hart Letters which we each secretly took as our model but at least our letters had a fair cricket content.
When Tim retired, his brother, a successful financial journalist, built a cottage for Tim and Joan on his 65 acre estate near Battle in Sussex. Tim tended the grounds well into his later years and was never happier than when on a tractor or mower or chopping logs.  He played and umpired regularly for Crowhurst village and made the odd foray to Lords to watch Test matches.  In her last years Joan was bed-ridden.  Tim seldom left her side, even during the night and this took its toll on his health.  After a short stay in hospital he died in June 2017.  The following September over seventy, including a motley collection of Sou'Westers, gathered in Battle to celebrate his life.  A nice touch was a display of photos from all parts of his life and a poem 'The Roller in the Woods' dedicated to him by Kit Wright.  It can be found in the volume 'Ode to Didcot Power Station'.
Tim had been a kind and generous friend to many, independent of mind but always fair and unflappable (except perhaps when he railed at inept Test selectors).  He was a raconteur and joke-teller par excellence.  No-one could wish for a better companion both on and off the field.
John Ford
Chris Dean
November 2017