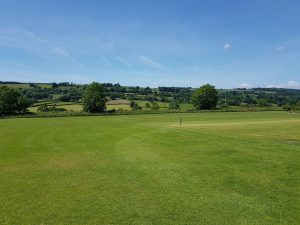 The following is taken from the 2020 yearbook.  At the time of writing, new Fixtures Secretary Andy had prepared a fine set of Western Tour Fixtures, including a new game at the delightful Chardstock CC. Events have now taken over, nobody yet has any idea at all what sport is going to be possible this Summer, but as things stand the tour is still on. The April 19th, 90th anniversary match against Cambridge University Crusaders is now cancelled, particularly sad for CUCC celebrating their 200th Anniversary this year, but we hope to be celebrating our 91st/201st anniversaries with a game next year. Meanwhile, Stewart is still organising overseas tours and is planning a long weekend to Porto in May 2021 with 3 matches – details to be posted later. We wish all our friends well in these difficult times.
2019 was planned as an 11 match tour, the shortest in my 55 years as a member, but due to a wash-out at Kilve and the inability of Taunton Deane to raise a side, only 9 matches were played. We managed to get 11 for each match, with a healthy number of members for the first week and a variety of guests helping us out for the last 3 matches. 18 members played during the tour and, furthering the Sou'Wester family tradition, in addition to the second generation members, 7 other sons and a grandson took the field of play.
Runs rather than wickets were the individual highlights with maiden centuries for Sam Kennedy and PJ Clarke, further centuries for Justin Williams and Harry Thomas and a glut of fifties for a number of tourists, while the only 5 wicket haul was Will Bucknell's at Old Tauntonians.
The 11 match tour is probably here to stay, but I am pleased to say that we have introduced 3 new fixtures to the Western Tour – Morebath, Sampford Peverell & Tiverton, and Chardstock.
Included in this yearbook by way of record and consistent with previous editions is a summary of the last two decades. In addition, we have reprinted a brief history of the Club provided for the book 'Gentlemen, Gypsies and Jesters' published by Fairfield Books in 2013. Many thanks to Chris Carruthers, Christopher Dean and Peter George for these excellent contributions to the archives.
2020 will be our 90th year and to recognise reaching that milestone we will be going back to our roots and playing a game in Cambridge against the University Crusaders side. This will be held on Sunday 19th April on a college ground to be arranged. Anyone wishing to play should contact me as soon as possible and anyone wishing to support and be part of this celebratory occasion should also contact me nearer the time to confirm the necessary arrangements.
As a further attraction that weekend we shall again be playing at Colchester in the Rob George Foundation 6-a-side tournament on Saturday 18th. Please let me know if you wish to play in what has become an integral part of the club's calendar. One final plea to members to make themselves available throughout our 90th year.
Martin Oliver