Western Tour 2022
Covid, the scourge of the 90th and 91st tours, had retreated further by the time the Sou'westers reconvened at Morebath at the start of the 92nd. The suggestion made in the 2021 Yearbook that the Virus might have permanently ended the time-honoured rituals of cricket lunch and tea proved only partly true, however. Culinary arrangements varied from match to match and had to be established in advance, but some clubs pleasingly reverted to the traditional arrangements. In this context, the Bridgetown tea has long been famous in Sou'wester circles for its size, variety, and quality, but this year it had a worthy challenger: Will Silk was positively ecstatic about the Westward Ho! offering and demanded it receive top billing in this report.
What gave 2022 a unique feel was the multitude of Sou'wester flags flying proudly in numerous locations in Somerset and Devon; indeed, three were visible from the pavilion at Sidmouth alone. We seemed suddenly very popular with the local populace, but discreet inquiries as to the reason revealed that our colours, or something very like them, actually doubled as the national flag of Ukraine and that those we saw were in reality a gesture of local support in the face of the Russian invasion. Nevertheless, we felt even more at home than usual as a result.
Recent Yearbooks have commented on the greater sense of cohesion and team spirit which comes from tourists spending more time together off the pitch as well as on it, and the benefit of that was apparent from the start as the tourists arrived at Morebath from all parts and the normal convivial tour atmosphere was immediately reasserted with no discernible warming-up period.
So popular is the now well-established low-key opening match, that an agreement was reached to play it as 12-a-side contest, prompting the question as to whether our first opponents should be rechristened the Evenballs. When the crunch came, however, they batted 13, so Loyton Oddballs it remained, and, in any case, the Official Scorer, worried as to what posterity might think of such frivolity, downed pencils as usual at the fall of the tenth wicket; so, it is on that traditional basis that the record shows we started with a win. Andy Bolan and Charlie Everett almost got to 50 but not quite. Thus, it was Philip Oliver who recorded the first of the tour. Some might say he should share the glory with Sam Kennedy after greeting him on his arrival at the wicket and in the hearing of Umpire Dean with the words "they're all in duckers" and then watching as the first ball pitched on middle and took the off bail! Sam convincingly reasserted himself with the ball when he opened the bowling but three wickets in his second over saw him sensitively removed from the attack by Captain Kennedy. After that, almost everyone had a bowl to follow their earlier innings as we dismissed the Oddballs for 110.
Next day was a sterner contest on another cool grey day but with a similar result. We declared at 256-5, with 50s for Will Oakes and Harry Kennedy. Morebath were all-out for 193 in the face of some mean Sou'wester bowling of which Henry Parker's 4-19 from 8 overs was outstanding. It was clear that the opening Morebath weekend had, as usual, welded the Sou'westers into a fine fighting unit ready for the more serious stuff to come, at which we had not been beaten since 2020. What could possibly go wrong??
Well, for one thing, it was apparent from the very start of the next match that while the Old Blundellians were playing it in their normal friendly and welcoming way, it was with extra determination this time. Of course, Captain (Justin) Williams is a Sou'wester as well as an O B and so are Will and Freddie Bucknell who were also in the side, and they may have felt challenged by the (as usual, accurate and strictly impartial) report of the 2021 contest in last year's Yearbook but, whatever the reason, a more serious approach was evident this year and the day was all the better for it. On another wicket rewarding proper application from the batsmen, we took 57 overs to amass 195, Harry Chatfield Roberts leading the way with 56. Both Blundellians openers made patient 50s at the start of their reply and it seemed we were heading for a heavy defeat, but Henry Parker and Andy Bolan reasserted control. A late wicket for Sam Kennedy brought it all down to a tight climax in which the Old Blundellians edged home by one wicket, although the ending itself was anything but dramatic – four to win, one wicket to fall, four byes! The result was undoubtedly a fair one on the day, and some (though probably not the Tour Supremo) will think it positive for the Sou'westers too, in that it removed the "unbeaten" tag which might have become a hindrance under some circumstances later in the tour. Anyway, there was not much losers' gloom apparent at dinner at The Anchor at Exebridge after the match!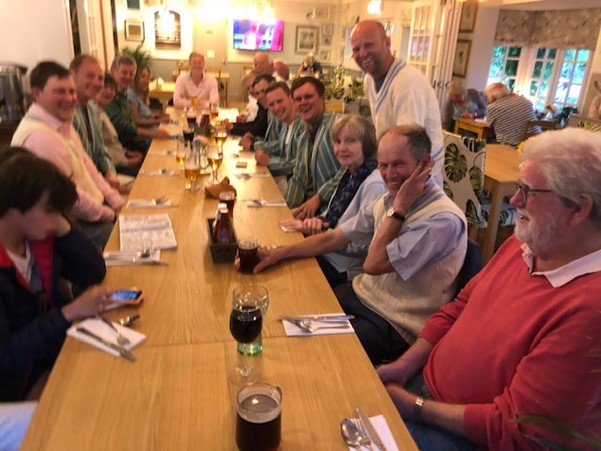 By one of those coincidences which cricket sometimes produces, there was an identical result at Kilve the next day: we lost by one wicket but this time there was no anti-climax on the last ball. Judging by the cheerful encouragement provided by his teammates when he joined Peter Stone with 4 to win, the Kilve number 11 is not widely known for his batting prowess. He confounded the sceptics with a masterly 2 not out as Kilve eased to 157-9 (off 56.1 overs) in reply to our 156 (off 48.1). Like that at Blundells, the wicket had something in it for the bowlers and the cricket was much more interesting as a result. Nobody got to 50 in either innings, the highest being Matt Sunter's 43, and all the bowlers had a decent reward if they kept the ball up to the bat (Andy Pring 2-27 off 12; Harry Chatfield Roberts 3-16 off 7 for example). The welcome was warm and the food and drink excellent and it really was a lovely day's cricket.
By arrangement with the owner, Patrick McCaig, our opponents at Sidmouth this year were a side combining players from the Club itself and one of their sponsors, the Otter Brewery, who thoughtfully brought a plentiful supply of their excellent product to the game with them. For the Sou'westers, Harry Kennedy got to 93 before succumbing and Matt Sunter also reached 50 in our 244-5. The Otters totalled 188 in reply, with the wickets shared evenly between the bowlers. The Otter opener, Mr I Thomas, had scored 106 out of 152 when he was seventh out and if he brews as well as he bats, it may be the key to Otter's steady growth since its foundation in 1990! During his innings, there was a warm Sou'wester incident when Chairman Kennedy had him plumb LBW, a view shared by Umpire Williams, who gave him out. A word or two from senior players closer to the bat suggesting he might have hit it brought the agreed and diplomatic withdrawal of the appeal without any feathers being seriously ruffled.
We have not played at Taunton Deane for some years, and it was good to be back to another welcoming place with a deep traditional cricket club feel to it. It was also good to see at least two young Sou'westers who recognised this and appeared properly dressed for the occasion.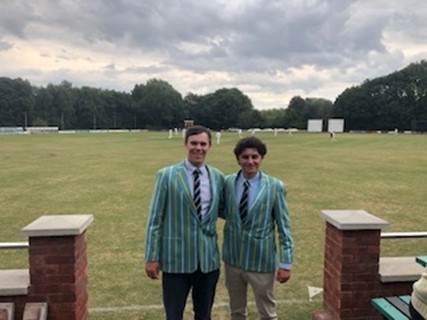 Both sides had the usual midweek mixture of age and ability, and the result was another happy day of proper cricket. We scored 201-6, built on a solid opening partnership of 93 between Guy and Will Bucknell, and dismissed our opponents for 185. The last two Taunton Deane wickets were taken by Philip Oliver, one of three genuine batting, bowling wicket-keepers visible this year (the others being Justin Williams and Guy Bucknell).
Old Tauntonians (boosted by a Sou'wester eleventh man in Max Clarke) were the opponents for another even match. They declared on 250-9 off 52.1 overs, to which a contribution of exactly half was made by their opener. Henry Parker bowled 15 overs and Charlie Everett 11, sharing six wickets between them. In our reply, two OT bowlers delivered 27 overs between them and took 5 wickets. Our opener, Matt Sunter top-scored with 58, but we stuttered in mid-innings and lost the 8th wicket at 222. However, Harry Kennedy and Henry Parker saw us home with Mr Chairman still in the hutch at the end awaiting the call. In the evening, we were invited to the new home of Paul and Ruth Thomas for an excellent BBQ which rounded off the day very well and was greatly enjoyed by all.
A few days previously, Chulmleigh reluctantly cancelled our fixture for lack of players. One sympathises with them because it must be difficult to put out a side on a Saturday in Devon during the school holidays when most keen cricketers are tied up with leagues. However, they gave us reasonable notice, and Justin Williams pulled in favours from family and friends to ensure we did not have a blank day. Justin could not play himself because of an injury sustained a few days earlier, but through his efforts, we were able to stage a 10 a side match incorporating all available Sou'westers with willing local reinforcements. The ground made available for us was at Stoodleigh, a new one to us, and another with beautiful views over long distances into rural Devon. We are extremely grateful to Justin, his wife and parents, Stoodleigh Cricket Club and Messrs Thompson, Hudson, Boxall, Helican, Berry, Eastham, Cole and East for their wholehearted support.
The match itself was played sensibly and competitively and was reasonably even. When one Sou'wester bowled to another there was none of the horsing about which can sometimes make a farce of such in-house matches. The result does not matter, of course, but Max Clarke will for a long time remember taking a wicket with the first ball of the match with a magnificent off-cutter. This was yet another lovely Devonshire cricket ground to which we would happily return given the chance.
When arranging our fixtures, Andy Bolan has always mentioned our preference in the touring context for traditional declaration cricket over straightforward limited overs matches. So far in 2022, every match had been either on that basis or of the so-called 'hybrid' type, and we were grateful that Bridgetown, where limited overs is the norm, agreed to oblige us in this way. The bare figures of the match itself are that Charlie Everett and Paul Offord scored 50s in our total of 245-4 and Jonathan Kennedy distinguished himself with the only 5-wicket haul of the tour in dismissing Bridgetown for 144. As always, it was a wonderful day at a special place, rounded off afterwards by a full and frank exchange of old tosh with our opponents in the Badgers Holt.
It was 1st August by the time we reached North Devon and the effect of what had been the driest July on record could clearly be seen on the parched outfield. There was the same mixture of age and ability on both sides which had been evident at Taunton Deane but the captains on the day deployed them in distinctly different ways. Thus, we appeared to have done well to contain North Devon's younger element to 98 for 5 off 26 overs but the senior players who followed treated our later bowling very severely and took the total to 243-7 off 40. That was quite a demanding target given our resources on the day, and so it was serious when we lost our four top batsmen for 42. PJ Clarke dug in for an important 42 to prevent a rout and eventually all parties seemed happy to just go through the motions for the last 10 or so overs as we finished on 216-7.
We encountered a batting issue again the next day at Westward Ho! in a straight 40-over match. Having made an encouraging start, overs 20 to 31 saw us progress only from 117-1 to 137-4. Although that was followed by a rally led by James Flatt (81), our total of 215-7 was not sufficiently demanding and five very capable batsmen cruised to the target in 32.3 overs. If you wished to be unkind, you might call it a thrashing, but it was one which had at least two memorable Sou'wester moments in it. One was towards the end when the bowler, Alec Sprague, brought off a magnificent run out of a batsman going for a short single. The other was the image of our youngest and shortest player, George Oliver, fielding at square leg in close proximity to Umpire Williams, and with the rampaging Atlantic breakers the ideal background behind them. This can only be reported at all because the Press Box at Westward Ho! is on the landward side of the ground; if it were on the seaward side, nothing noteworthy would have been visible at all! It simply serves as a reminder of how this wonderful game appeals to adherents of such differing experience and aspect! Long may it continue!
There were, it must be said, a few signs of tiredness among some of the younger players when we played our final match of the 2022 tour at Sampford Peverell and Tiverton, but there was enough resilience around to bring it to a satisfactory conclusion. Rich Godfrey almost recorded the century we did not achieve in 2022 but succumbed on 97, and he was robustly supported by Alec Sprague (66) in our total of 254-9. We employed seven bowlers in dismissing SP for 157, with the best return from James Flatt (3-25).
SP & T is a fairly new fixture for the Sou'westers but one we have quickly grown to appreciate. The welcome, the atmosphere and the post-match BBQ were all excellent and the tour ended in the same sociable, relaxed, and enjoyable atmosphere in which it had proceeded throughout. Normally, that would be that for another year but in 2023 we have Portugal ahead of us in May.
What lucky people we are!
Averages
| | | | | | | |
| --- | --- | --- | --- | --- | --- | --- |
| Batting (3 Inns) | Inns | N.O. | Runs | H.S. | Ave | Ct/St |
| M.Sunter | 7 | 3 | 262 | 59* | 65.50 | 3 |
| H.Kennedy | 6 | 2 | 250 | 93 | 62.50 | 7/1 |
| P.Oliver | 5 | 2 | 139 | 55* | 46.33 | 4 |
| A.Bolan | 4 | 0 | 136 | 45 | 34.00 | 2 |
| R.Godfrey | 3 | 0 | 102 | 97 | 34.00 | 4 |
| P.Offord | 3 | 1 | 67 | 31* | 33.50 | 2/2 |
| W.Oakes | 7 | 1 | 179 | 60* | 29.83 | 2 |
| C.Everett | 8 | 1 | 195 | 74 | 27.86 | 4 |
| G.Bucknell | 3 | 1 | 53 | 48 | 26.50 | 1 |
| H.Chatfield-Roberts | 3 | 0 | 60 | 56 | 20.00 | 2 |
| F.Bucknell | 5 | 0 | 91 | 37 | 18.20 | 2 |
| H.Parker | 5 | 1 | 71 | 28 | 17.75 | 3 |
| W.Bucknell | 7 | 1 | 103 | 50 | 17.17 | 3 |
| M.Clarke | 4 | 1 | 31 | 27* | 10.33 | 2 |
| S.Kennedy | 5 | 0 | 38 | 26 | 7.60 | 1 |
| M.Meyer-Webb | 3 | 0 | 1 | 1 | 0.33 | 1 |
Also batted:    P.Clarke 42*, W. Edwards  12* (1ct),  J. Flatt  81, 28*, (1ct) ,  H.Gillingwater  3 (1ct),  J.Kennedy  18*, 5, (1ct),   A.Pring  0, 0,  D.Pugsley  34*, 37,  C.Silk  2, 17,  W.Silk  6, 5, (2ct), A.Sprague  6, 66, (2ct),  A.Spratling  43, 14, (2ct),  J.Williams 10
| | | | | | |
| --- | --- | --- | --- | --- | --- |
| Bowling (10 overs) | Overs | Maidens | Runs | Wkts | Ave |
| C.Everett | 26 | 6 | 78 | 9 | 8.67 |
| J.Kennedy | 40 | 5 | 187 | 13 | 14.38 |
| M.Meyer-Webb | 14 | 25 | 58 | 4 | 14.50 |
| J.Flatt | 10.3 | 1 | 65 | 4 | 16.25 |
| H.Parker | 68.3 | 13 | 258 | 15 | 17.20 |
| H.Bolan | 17.4 | 2 | 92 | 5 | 18.40 |
| A.Spratling | 18 | 1 | 82 | 4 | 20.50 |
| S.Kennedy | 52.1 | 8 | 189 | 9 | 21.00 |
| A.Pring | 21 | 5 | 56 | 2 | 28.00 |
| G.Oliver | 14 | 0 | 88 | 3 | 29.33 |
| W.Bucknell | 26.3 | 1 | 193 | 6 | 32.17 |
| D.Pugsley | 10 | 1 | 66 | 2 | 33.00 |
| H.Chatfield-Roberts | 23 | 14 | 132 | 3 | 44.00 |
| M.Clarke | 38 | 10 | 157 | 2 | 78.50 |
Also bowled:  G.Bucknell   4-1-17-0,  W.Edwards  2-0-9-1,  H.Gillingwater 2-0-2-1,  R.Godfrey  14-4-29-0,  P.Oliver  3.1-0-14-2,  C.Silk 8-0-74-1,  W.Silk 4-0-22-2,  A.Sprague  8-0-49-2,  T.Stone  7-0-38-4