Western Tour 2019
These words are being written shortly after the end of the 2019 Western Tour while the memory is still strong and the sun still beaming down; however, you will not read them until deep into next year. That will be the 90th for our Club; not a bad score, and one which The Ruling Junta has plans to mark in some way, but, of course, we need to play the long game and keep our heads down for the hundred and beyond.
Much has changed over those ninety years, though mainly in the appearance rather than the substance of things. Two-day matches, pimple gloves, strap-on boxes, light bats designed for graceful stroke-play, port after lunch and cravats have all disappeared; 11.30 starts are under threat. But on the other hand, facial hair has made a comeback and some of us have learnt to fill those awkward silences in the field by advising our fellas and buddies what to do next; if only The Fount had had the benefit of such advice, what a player he might have been!
Among the many essentials that remain constant are the variety of clubs played and the different atmosphere generated from match to match, something that is discernible well before the start of the match itself and which contributes so much to the flavour of the tour as a whole. Of course, it's difficult to appreciate this point unless one is involved in more than just the odd game and it was good to see that this year there were more members and guests who were present for long enough to do so.
We started at Chulmleigh where, on arrival, that ancient combination of blue sky with fluffy, white clouds and the rolling, green North Devon hills was just what was needed to put us in the mood for the next ten days. For the Older Accompanying Persons (OAPs), that sense of anticipation was further advanced by the arrival of the Chairman's Charabanc Party which was full of Young, Active Participants (YAPs), who brought with them a bustling fitness and an aura of confidence for the tests to come, all topped off by the Chairman's wise head.
We have often suffered from the elements at Chulmleigh and when we haven't, we have usually come second. Those contests have been on the middle Saturday of the tour, Chulmleigh's normal match day, but this year they obliged us by moving to a Sunday to leave the Saturday free for VRA and consequently several leading opponents were missing as we enjoyed a 10 wicket victory. Sam Kennedy and Guy Bucknell both took three wickets for not many but it is probably Max Clarke who, on grounds of youth, will retain special memories of his Sou'westers best of 3 for 7. Charlie Everett (62no) and Harry Kennedy (33no) eased us home without alarms before we adjourned to the Old Court House for the post-match analysis.
Old Blundellians provided, as usual, a traditional all-day cricket match with not only lunch and tea but also a congenial supper afterwards, all of which we much appreciated. Various members of the two sides are well-known to each other and Justin Williams was again in charge of the OBs, who included both Guy and Will Bucknell, so the atmosphere was pleasant and familiarly competitive. There was a strong indicator of the likely outcome even before the start when the YAPs so impressively demonstrated their fitness and suppleness that an apprehensive OB's mother was heard to remark that "the Sou'westers have clearly won the warm up".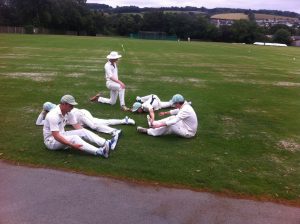 That was followed by another victory in the match itself, with a strong all-round batting effort led by Matt Sunter (72) enabling us to chase down a total of 270-6 with a couple of overs to spare. We have been well beaten here too in recent years so this was another welcome turn around, one in which we were especially pleased that Will Silk, making a rare but welcome appearance, was joined by his son, Charlie; both got among the wickets with the support of Philip Oliver who impressed, as usual, as an effective if unorthodox wicketkeeper.  Noteworthy too was Henry Parker's stint of 19 overs (3-104), easily the most bowled in a single match this year for us or against.
Justin Williams did not play at beautiful Heathcoat the next day (though his parents still turned out their excellent tea) but Will Bucknell again appeared amongst the opposition. To trump that, we had Jesus on our side in person for the first time; one of the YAPs, more prosaically known to his nearest and dearest as Harry Gillingwater, being so addressed by all, apparently on account of a past haircut.
In terms of figures alone, this looks like a close 40 over match (Sou'westers 290-5; Heathcoat 263 all-out off 37.3) but it never felt quite like that at any stage, as we piled on the runs, especially towards the end of our innings, and then defended the resultant total throughout theirs. Charlie Everett missed a deserved century by three, Matt Sumter by eleven and Rich Godfrey (48no) led the end-of-innings charge.
When we bowled, Sam Kennedy suffered from directional problems and was withdrawn after only two overs, a saga repeated later in the tour at Taunton. This mystifies the OAPs who recall his apparently natural style, evident from his debut and prominent, for example, in Corfu (2016) where the tour report records that "Sam Kennedy, bowling straight and full in classic style, went on to take complete control. In his third over, he took two wickets and in his fourth, no less than four including the hat-trick, to finish with 6 for 8 off his four overs. This will put him firmly in the record books alongside some much-respected older names." He will undoubtedly get back to this sort of performance if he really wants to, but, in the meantime, batting compensation was just around the corner. In the context of the match, Jonathan Kennedy's 2-33 off his eight overs was important and Rich Godfrey took 4-46 when the pressure was on.
And so to Sidmouth which, with the withdrawal of Seaton, is one of only three original opponents remaining on our Fixture List. A traditional match was agreed upon and we were asked to bat first, losing four wickets for not very many in quick time – a familiar theme at Sidmouth. Sam Kennedy, at six, then joined Andy Sapey and turned the game round with sensible batting which became more fluent as the overs progressed. Andy contributed a crucial 57 and Sam dominated the later stages in a magnificent 152 not out, resulting in a final total of 285-6.
The Sidmouth reply was similarly dominated by their captain with five double-figure contributors in support. Eight Sou'wester bowlers were tried and three took wickets but we never threatened to bowl them out and in the last ten overs or so looked in danger of losing, so much so that Captain Hogg had to set very deep fields in his attempt to save the game. In the end, they finished 10-short, to conclude a well fought and equal draw in which neither side bowled well enough to deserve to defeat the other.
At this point, the OAPs were faced with a dilemma. The airwaves were filled with Official Government Warnings about the exceptionally hot day to come and Old People were instructed to stay at home with the curtains drawn. The OAPs, being of a generation respectful of authority, were instinctively inclined towards compliance but also wanted to go to the cricket. In the end, Taunton Deane kindly solved the problem by cancelling due to lack of numbers and everyone was able to take evasive action on the hottest day ever recorded in Britain.
We began unconvincingly against Old Tauntonians (23-3 at one point) but Philip Oliver (40) and Justin Williams put things right with a stand of 155 for the fourth wicket and then Matt Sunter (55) and James Flatt (37no) accelerated home. Justin retired on 130 out of a total of 300-5, quite a turnaround from the early overs. During the onslaught two very Young Old Tauntonians (YOTs) were given permission by the umpires to bowl from 20yards; Not So Young Justin tried to get on the bandwagon by asking that he only have to run 20 but was quite properly refused!
OT's started better than us (97-2 at one point) but then fell away and it was left to the two YOTs to show how it should be done with serious resistance for the eighth wicket. They finished on 188, with our own spin twins Will Bucknell (5-40) and James Flatt (3-30) doing the damage. It is lovely to be able to anticipate many more years of this combination in the Sou'wester attack.
The middle Saturday of the tour this year featured a match against Dutch touring side VRA, for whom The Fount has umpired for some years and Andy Bolan has played since his move to Amsterdam. They made the introductions and Lynton and Lynmouth Cricket Club permitted the contest to take place at their striking, perhaps unique ground at the Valley of the Rocks. It was a highly congenial affair with pleasant impromptu speeches and an exchange of small gifts at the end. In his speech, the VRA Captain attributed their victory (189 to 107) to their solid opening partnership of 81 off 27 overs and this is undoubtedly true. The wicket was not easy, taking spin from the start and with some variation in height too. It probably did get more difficult as the game progressed (our last eight batsmen could not get out of single figures), and certainly neither side was able to produce a partnership to compare with this one. Socially, this match was particularly enjoyable, and we hope that it proves to be more than just a one-off event.
After the striking, isolated beauty of the Valley of the Rocks, only Bridgetown could compete and so it did next day without the wind and the occasional car behind the bowler's arm and instead the sounds of the river and the cooing pigeons as a lullaby for the OAPs.  What a wonderful place for a cricket match – and that's before even you see the tea! This year's match was illuminated by a first Sou'wester century from P J Clarke (103no at the declaration of 217-2). It was, in fact, his first of any kind for 25 years during which he has played very little cricket; what natural ability! We reduced Bridgetown to 10-2 and then 63-5 when they set off in pursuit, but one of the openers stuck it out and a deserved draw was secured. Will Oakes, Andy Bolan, Jonathan Kennedy and Henry Parker all got among the wickets but could not administer the killer blow. The highlight of the innings was undoubtedly when Harry Kennedy, keeping wicket in extremis, showed his appreciation of the importance family matters by removing not just a bail or two but all three stumps in the course of registering a stumping off his father's bowling.
North Devon brought a not dissimilar match but with a different result. A Sou'wester score of 265-3 was founded on another powerful, hard-hitting innings of 113 (retired) from Harry Thomas (1) supported by an excellent 75 from James Flatt. He was also retired (by his captain, Guy Bicknell, in order to get others into the game) and took it in exemplary fashion! Two thirds of the Sprague contingent propelled North Devon to 62-3 but their Australian captain showed his quality with a century of his own and they got home for 7 from three overs less than us.
Kilve unfortunately fell victim to the weather so, all of a sudden, we were at the last match at lovely Cerne Abbas, under the genial patronage of Philip Spray. We lost this one too batting first again, our 241-7 (Rich Godfrey 52, Steve Watson 49, Peter Stone 41) being overhauled for five, one each for five different Sou'wester bowlers.
Captain Oliver does not agree and neither does The Fount (who reacted to the post-match discussion at Sidmouth with 'I've never played in a friendly cricket match in my life), but one advantage of taking on the role of scribe with all the burden of hardship and responsibility that entails (for example, keeping awake in the day time for eleven consecutive days) is that you can give forth to your own opinions from time to time! So, what is needed to keep a happy tour happy for next year and the year after that is a balance of results not a clean sweep of victories and, with that in mind, a record of W4,  D2,  L3, C2 is pretty satisfactory.
The different but eternal positions taken on this issue are another indication that, despite appearances, nothing essential has really changed about the wonderful Sou'westers' Western Tour. The togetherness across the generations and the familiarly comfortable relations between the participants can be put away at the end of one tour and easily reinstated at the beginning of the next. It's been like that for 89 years now; make sure you are part of the 90th!
Results
Played 11   Won 4   Lost 3   Drawn 2   Cancelled 2
v Chulmleigh   Sun July 21   Won by 10 wickets
Chulmleigh   98   G. Bucknell 3-12, S. Kennedy 3-11, M. Clarke 3-7
Sou'Westers   100-0   C. Everett 62*, H. Kennedy 33*
v Old Blundellians   Mon July 22   Won by 5 wickets
O.B.s  270-6 dec   C. Fitzroy 118, H. Parker 3-104
Sou'Westers   271-5   M. Sunter 72, H Kennedy 49, S. Kennedy 47
v Heathcoat   Tues July 23   Won by 27 runs
Sou'Westers   290-5   C. Everett 97, M. Sunter 89, R. Godfrey 48*
Heathcoat   263   W. Penbury 62, H. Everett 54, R. Godfrey 4-46
v Sidmouth   Wed July 24   Drawn
Sou'Westers   285-6 dec   S. Kennedy 152*, A. Sapey 57, W. Clayden 3-49
Sidmouth   275-5   J. Mansfield 138*, C. Everett 2-26
v Taunton Deane  Thurs July 25   Cancelled
v Old Tauntonians   Fri July 26   Won by 112 runs
Sou'Westers   300-5dec   J. Williams 130ret, M. Sunter 55
O.T.s   188   W. Bucknell 5-40, J. Flatt 3-30
v VRA   Sat July 27   Lost by 82 runs
VRA   189   M. Rier 38, A Bolan 2-14, W. Bucknell 2-35
Sou'Westers   107   S. Kennedy 18, A. L. Bolan 18
v Bridgetown   Sun July 28   Drawn
Sou'Westers   217-2 dec   P. Clarke 103*, H. Kennedy 48
Bridgetown   165-7   B. Luxton 60, J. Kennedy 2-18, H. Parker 2-24
North Devon   Mon July 29   Lost by 3 wickets
Sou'Westers   265-3   H. Thomas 113ret, J. Flatt 75ret
North Devon   266-7   A. Isherwood 112, A. Sprague 2-66
v Kilve   Tues July 30   Cancelled
v Cerne Valley   Wed July 31   Lost by 5 wickets
Sou'Westers   241-7   R. Godfrey 52, S. Watson 49, P. Stone 41
Cerne Valley   246-5   D. Baney 60, J. Barrett 54*
Averages
| | | | | | | |
| --- | --- | --- | --- | --- | --- | --- |
| BATTING | Inns | N.O. | Runs | H.S. | Ave | Ct/St |
| J. Williams | 2 |  1 | 134 | 130* | 134.00 | 2 |
| R. Godfrey | 3 | 2 | 133 | 52 | 133.00 | 1 |
| S. Kennedy | 4 | 1 | 259 | 152* | 86.33 | 3 |
| M. Sunter | 3 | | 216 | 89 | 72.00 | 1 |
| H. Kennedy | 5 | 2 | 158 | 49 | 52.66 | 2/1 |
| C. Everett | 5 | 1 | 194 | 97 | 48.50 | |
| A. Spratling | 4 | 2 |    51 |   25* | 25.50 | 1 |
| P. Oliver | 2 | 1 |    16 | 11 | 16.00 | 2 |
| A. Bolan | 3 | |    34 | 18 | 11.33 | 1/1 |
| G. Bucknell | 3 | |    29 | 20 | 9.66 | 1 |
| J. Kennedy | 2 | |    16 | 11 | 8.00 | 2 |
| W. Bucknell | 3 | |    20 | 15 | 6.66 | 2 |
| K. Barnes | 2 | |    11 | 10 | 5.50 | |
| H. Parker | 2 | 1 |     4 |    4* | 4.00 | 1 |
| W. Oakes | 2 | |     3 | 3 | 3.00 | 3 |
| J. Flatt | 2 | 2 | 112 |   75* | ∞ | 2 |
| M. Clarke | 2 | 2 |   11 |   8* | ∞ | 1 |
| A. Sprague | 2 | 2 |   21 | 19* | ∞ | 1 |
Also Batted P.Clarke 103*, H. Gillingwater 0, A. Davies 12, C. Thomas 20, S. Hogg 21, P. Stone 41, S. Watson 49, A. Sapey 57, H. Thomas 113*
| | | | | | |
| --- | --- | --- | --- | --- | --- |
| BOWLING  | Overs |  Maidens |            Runs |      Wickets |              Ave |
| W. Silk |    7 | 2 | 20 | 2 | 10.00 |
| J. Flatt |  13 | 3 | 53 | 4 | 13.25 |
| M. Clarke |       6.5 | 0 | 46 | 3 | 15.33 |
| A. Bolan |  21 | 8 | 79 | 5 | 15.80 |
| G. Bucknell | 19 | 3 | 49 | 3 | 16.33 |
| W. Bucknell |    29.3 | 1 | 138 | 8 | 17.25 |
| C. Everett | 10 | 0 | 38 | 2 | 19.00 |
| S. Kennedy |   9 | 1 | 81 | 4 | 20.25 |
| R. Godfrey |    19.3 | 0 | 116 | 5 | 23.20 |
| J. Kennedy | 46 | 10 | 152 | 6 | 25.33 |
| H. Parker | 50 | 7 | 256 | 10 | 25.60 |
| H. Kennedy |   16.1 | 1 | 63 | 2 | 31.50 |
| A. Sprague | 21 | 0 | 135 | 4 | 33.75 |
| P. Sprague | 15 | 0 | 106 | 2 | 53.00 |
| A. Spratling | 22 | 0 | 171 | 2 | 83.50 |
Also Bowled A. Davies 6-0-28-0; K. Barnes 4-0-19-0; S. Sprague 11.2-0-74-1; S. Watson 4-0-22-1; W. Oakes 12-0-70-1; C. Silk 5-0-19-1; H. Gillingwater 2-0-28-0; A. Sapey 7-1-32-1; S. Hogg 3-0-19-0; M. Sunter 7-0-42-0