Italy Tour 2018
Friday
We were welcomed to the Bologna Cricket Meadow by no less a dignitary than a recent President of the Federazione Cricket Italiana, whose unsolicited fusillade of erudition concerning the minutiae of the mid-twentieth century county championship quite took his audience's breath away – but failed to distract our attention totally from as fine a field of daisies (interspersed with rather pretty little blue flowers) as it has been my lot to see on a cricket ground. We bowled first in a 45/45 game, and Sam Kennedy accounted for both openers, one of whom produced one scoring shot in 35 minutes at the crease – a six. Thereafter things went downhill – four catches were taken, but more were dropped – a further eight sixes were struck (imperious straight drives or long-hops given their comeuppance), and (to my surprise), fifteen fours – Sam Kennedy's second spell produced 2 more wickets, Harry's first went for plenty, and skipper Jonny sensed the moment to bring himself on to snare one of the big guns and 2 relative rabbits, the last in the 44thover.
After a copious luncheon of Pasta and/or Biryani, such success as came our way was the result of contrasting innings from Harry Kennedy (24 in 2 hours – one four) and Harry Thomas (32 in quarter of an hour – five sixes). Several of the other batsmen hit the ball almost as high as had the Bolognaise, but nowhere near as far in terms of range. As a result, Kohli, having hit five sixes himself, was able to take four catches, all excellent, one a breath-taking one-hander while entangled with a colleague competing for the orb.
Insofar as it is ever a pleasure to lose, it was that day, to a cheerful and hospitable team, who relished the occasion, and are to be congratulated on successfully transplanting their South Asian enthusiasm and skill to this corner of Italy.
Saturday
The Pianoro Ovale was, and like Bologna would be better described by Wordsworth than by Cardus (or your correspondent). We batted first in a 40/40 game, and Philip Oliver top-scored with 38, narrowly beating the 37 wides, awarded prodigally by the home umpire. The 10th wicket fell in the 37th over. When Pianoro batted Philip clinched Sou'Wester man-of-the-match with two catches and a wicket, but most of the latter fell to slow bowlers. Jonny Kennedy learnt the merit of "taking the pace off "years before it became fashionable to do so in professional cricket, and he and Henry Parker exploited Pianoro's lack of familiarity with flight mercilessly – (Kennedy 3 for 7 in 8 overs, Parker 3 for 26 in 5.5). We won the cricket by 48 runs, and the wides competition 37 – 12), having enjoyed a splendid picnic lunch based largely on what struck me as a compromise between open sandwiches and pizza. It was good to see an Italian name in the scorebook (twice).
Sunday
The Ovale seemed to have shrunk overnight – on Saturday only one six was struck – on Sunday eleven cleared the boundary, several also clearing the high fence and falling foul of a voracious waterfall in one "coup de vache coin ". Sam K bowled one opener in his first over but thereafter wickets were few and far between as Kings gorged themselves against a team which did not meadow as well as it might. George Thomas had no luck – a soon-to-be centurian played and missed at 6 consecutive deliveries not very far outside the off stump, and his first six overs went for only 32 runs; brother Josh was the pick of the bowlers, conceding less than a run a ball at a time when assault and battery was being committed on bowling from the other end.
"Rolling substitution "is the norm in this part of Italy – in the first game in particular players came and went with umpire-bewildering frequency – in this game the Sou'Westers attempted to exploit it for the first time. Harry Thomas had kept wicket, and Charlie Thomas had taken no part in the game thus far – both were due to fly back to Blighty from Bologna that evening, and it had not been expected that either would play any part in further proceedings. However, facing 368 ………. Bus routes and timetables were hastily consulted, and it was decreed that both could bat until five o'clock. Unhappily both were back in the pavilion (there was one at Pianoro) by half past four, and after batting for 42 overs we lost by 240 runs. All-rounders George Thomas and Sam Kennedy were our top scorers with 33 and 26 not out. Our cheerful and courteous hosts (lingua franca, Punjabi) had thoughtfully donated a trophy for the "runner "[ up], which MAY have got through customs and now be in UK.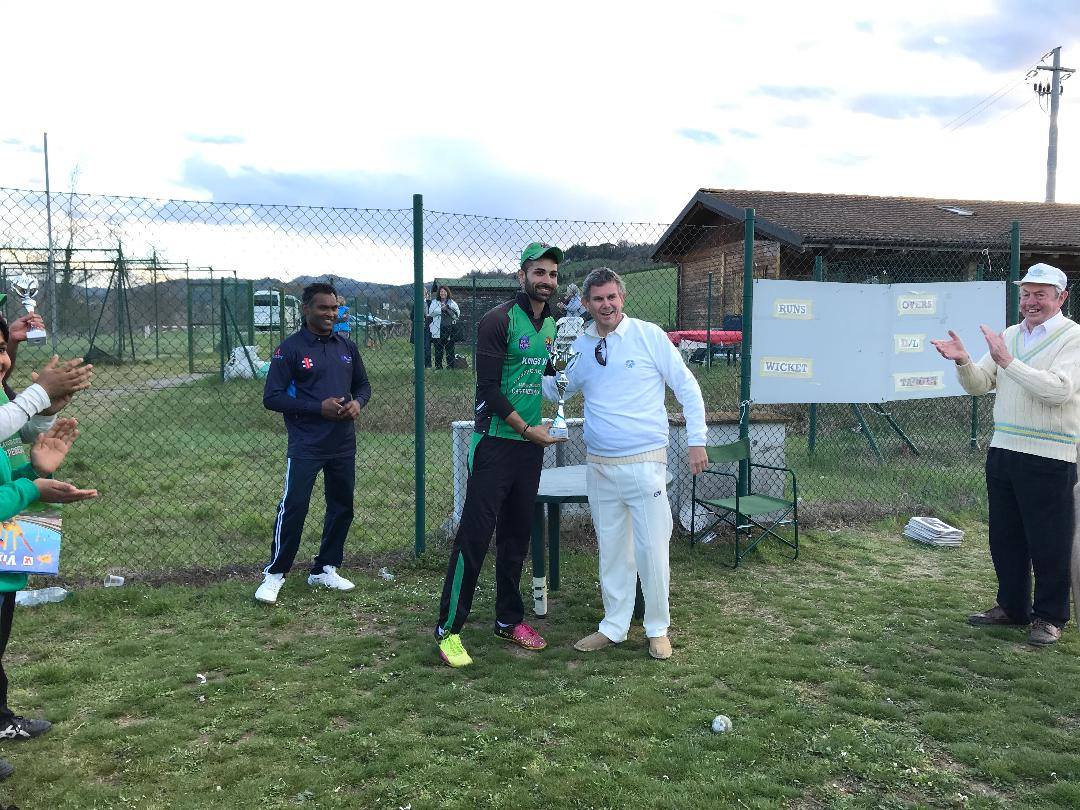 It is just possible that the paucity of taxis in post-midnight Bologna may have contributed to the scale of our defeat – on the other hand if an Irish van driver had not taken pity on the errant tourists, they would have enjoyed even less sleep, and the margin might have been even greater ……….
Monday
At this stage I had nothing but 20 Euro notes in my pocket, so the fact that St Anthony did NOT give change, and wanted 20 cents before he would allow me into his urinal, resulted in a most agreeable and protracted visit to a cafe dominating a morning stroll round Padova. The ground was the first to show evidence of having been mown this year, and certainly the one with the highest proportion of actual grass in its foliage (witness the abundance of, admittedly short, new mown hay – and the dominance of yellow flowers rather than daisies). Our hospitable hosts produced an excellent Chicken Biryani for lunch before the 20/20 game. Astonishingly, Charles Everett's first scoring shot was a four – thereafter the only (eight) boundaries were all sixes – 4 to Charles (top scorer with 39), 2 to Philip Oliver, and one each to Henry Parker and Sam Kennedy. Harry K "rotated the strike ", including 16 singles in his 18 not out.
There followed the best Sou'Wester out-cricket of the tour – Messrs Bolan, Sewell, and Oliver took 5 catches and 2 stumpings between them before Philip doffed the gauntlets and bowled number 9 with the home side still 3 short of the victory they achieved in the 19th over. Ten sixes had been struck, together with a solitary four – an attempt to prevent this last resulting in an injury to a young Kennedy, substituted by a hastily apparelled not-so-young Thomas. I trust the records will show that Paul's playing career extended to 2018. He may (or may not) have enjoyed fielding, but must have enjoyed seeing Sou'Wester-of-the-match Josh bowl his four overs of classical "left arm round, diagonal "(as they say in Tamil Nadu) for ten runs and four wickets , with probably twice that number of unrequited appeals for lbw.
The local Sri Lankan community have created a notably family-friendly club (I was reminded, in this regard, of Kilve) – it was good to see so many children on the boundary, and so many of the players' families supporting Padova cricket.
That evening the tour dinner took place in the restaurant of Signor Franco Rossi – a picturesque old gentleman who, having scattered rose petals over the proceedings, retired to count his ill-gotten, leaving the waiting to a team who, without exception, looked as if they were auditioning for parts in the next mafia blockbuster. It was a splendid occasion, highlighted by apposite oratory from the tour captain, our President, Harry Kennedy, and the octogenarian to whom we owe so much, Stewart.
Stewart, the club owes you a huge amount – yours will be a hard act to follow. We all hope that the tradition of regular foreign jaunts will be maintained, and that you and Nancy will be there to enjoy our company, and to relax while someone else does the worrying. Thank you.
Quotations of the tour
"Are those REALLY Sou'Westers? "
Barford, questioning the evidence of his own eyes, which showed cricketers running for the sake of running, rather than pursuing a ball or adding to their score.
"Will'll be a REALLY good barrister "
What hole Will had talked the young tourists out of was not revealed
And finally, the above report would have been impossible without the scoresheets now in front of me – on behalf of the club, I would like to thank Marion , Vernon , and Martin for their oft-unappreciated hard WORK as scorers , and John Bolan and Will Oakes for their umpiring – both jobs which require far greater concentration than was summoned up by some of the younger generation on the Sunday of the tour …….
Sou'Wester Tours are wonderfully multi-generational affairs, and the relationship between the old and the young is truly symbiotic – the young benefit from their seniors umpiring and scoring (and the occasional hand in the parental pocket) and the old benefit from the entertainment provided by young, both on and off the field ……