Corfu 2016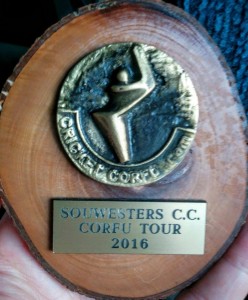 'The first day of the cricket season'; what an encouraging thought in the dark days of January! In England, where the April weather is highly variable, The Authorities used to be suitably wary of too early a start. Your scribe (and possibly other OFs*) clearly recalls sitting in the lower tier of the old Grand Stand at Lord's trying to get out of the wind and occasional rain, the wicket pitched on the edge of the square on that side for MCC v Notts (Champion County), and, despite the conditions, the joy of watching Derek Randall at cover attacking every ball only a few yards away. That first day was Saturday 1st May 1982. In 2016, the equivalent match was played in Arabia (who can say why?) so it was on the opening day of the proper season that he sat to watch the first ball of Oxford University v Worcestershire, wrapped in four layers, a scarf and a bobble hat. That was, believe it or not, on March 31st and there was no Derek Randall or anyone with any class to make it worthwhile; moreover, there was no chance of a close finish (Worcs won by 482 runs), so really one wonders what on earth is the point of it all. The adjournment to licensed premises was also earlier than ever this year.
The point of 40 Sou'westers taking themselves to Corfu for the start of their season was easier to understand – they were going to play, umpire, score or simply watch cricket in the sunshine and, above all, enjoy themselves. These objectives were triumphantly met. The touring party was very diverse in every way, but it was always harmonious, a situation particularly to the credit of the excellent young men who did most of the playing but were, at the same time, noticeably most tolerant of the accompanying families and OFs*.
It must be said that the first day (Sunday 3rd April) was a little unusual. Half the party didn't arrive until after the first match had been played and the other half had to get up in the middle of the night in order to make the departure time of the outbound flight, selected purely for its convenience by young Stewart (who was himself in the second half, of course). The early risers got to Corfu and the sunshine a little late and lunch had to be rushed, which may be why nobody selected the Mutton Entrails which were clearly the pick of the menu.
Eventually, at 3pm on a warm and sunny Corfu afternoon, Robbie Prior bowled the first ball of a 25-over match at the Marina Gouvia ground against GEK CC. The equivalent delivery on the last Sou'wester tour (Capetown Wombats 2012) produced a memorable wicket for Rob George, and many of those present on both occasions had him in the forefront of their thoughts at this moment. Less emotionally, and in close adherence to established tradition, at approximately 3.06, the first Sou'wester dropped catch of the tour took place; no names, but he knows who he is. At 34-0 in the 7th over, this looked like a contest, especially as one of the openers, a classy left-hander called Manusis, was scoring well. After he was removed (by Prior) however, Sam Kennedy, bowling straight and full in classic style, went on to take complete control. In his third over, he took two wickets and in his fourth, no less than four including the hat-trick, to finish with 6 for 8 off his four overs. This will put him firmly in the record books alongside some much-respected older names. The innings ended at 54 off only 14 overs and, after a couple of shocks (7-2 at one point), we knocked them off for two, Nick Peet leading the way with 29no. In retrospect, however, the most significant Sou'wester event of this day may well be seen as the first overs bowled by Charlie Peet, who showed all the style, guile and flight of Great Uncle Stewart despite his tender years, taking the first of what we hope to be many wickets for the Club.
Your scribe had been pressed into service as scorer for that first match but, after the arrival of the indefatigable and dedicated Marion Oliver, was in his favoured position at long on alongside ex-President Dean (hereinafter The Fount) for the second, against Atlas CC on 4th. In this position, closer to the action, it was possible to take pleasure in the sound of authentic Greek enthusiasm echoing round the cricket field and combine it with input and commentary from The Fount. One of the pleasures the OFs* take from Sou'wester cricket is watching the sons and grandsons of other Sou'westers grow and mature. One of them, Harry Thomas, only yesterday a promising youth but today a strong, skillful and powerful batsman, played the leading innings when we batted first (57 out of a total of 154-6 from our 20 overs). It was an innings which included several reverse sweeps performed spectacularly well and what was apparently the first volleyed straight six witnessed by The Fount since that struck by M W Corby from the bowling of J R Hume. (No, I don't either). He was well supported by a robust innings of 32 from Philip Oliver and a quick 25no from Angus Spratling. Obviously, for a balanced tour, it was desirable to lose this match after the big win of the previous day, but we would have had great difficulty in doing so had not opening bat Aslam been cunningly dropped early in his innings by a thoughtful and sensitive Sou'wester. No names but you know who you are (again). This sensible and selfless act allowed Aslam to go on to score 128no, 82% of the winning total. The very heavy bat he used had a lovely sweet sound and dispatched the ball long distances to all parts in a dominant innings which thoroughly deserved to be a match-winning one.
The third match, against Faiax CC, was played at last at the famous town ground rather than at the Marina. Indeed it was on the very strip where, in that famous incident, Pythagoras bowled Helen of Troy round her legs in the third test against Sparta in 409BC, although, of course, in those days it was still a grass wicket. To prepare for the match, cars were prohibited from parking on three sides of the ground although numerous left-overs were still in place and had to be negotiated by the fielders. On the fourth side, the teams took up residence in the tavernas marking the (very short) boundary and, in a gesture to modern scruples, a softer plastic-covered ball was used throughout although, disappointingly, nobody put it to the ultimate test. The Fount had been drawn into umpiring this one but the WAGS made an excellent substitute and, in another reminder of ancient practice, kept the wine flowing throughout a lovely afternoon.
Frankly, the result was immaterial – it was just wonderful to be there. But, for the statisticians, we won by 8 wickets (118-2 off 18.2 against 117-8 off 25). It may or may not have been of significance that Aslam was listed at 10, where he could only contribute 10 n o before the overs ran out. For the Sou'westers, Freddie Peet also took his first Sou'wester wicket and Harry Thomas again drove us home (49 out of the last 65). But the highlights for the connoisseurs were (again) a wicket for Jezza from his first ball, a deceptive and subtle full toss which fooled Mr Bouzis into holing out, and a free and frank exchange of views between Pip George, partner of The Fount in the best-turned-out pair since Barbara Windsor was in her prime, and a Demis Roussos lookalike, from which all who know the contestants would recognize that there was only one possible winner.
After this third match, the weather suddenly remembered it was early April. Friday was particularly awful, but that evening it cleared enough for the End of Tour Party to go ahead as planned. One felt even then that it might prove a bit unsettling to some to hold this testing event before the End Of The Tour but it a was most congenial evening at the time. President Spray presided in genial manner and spoke warmly, amusingly and, above all, truthfully about what makes the Sou'westers such a very special club. Great Uncle Stewart was presented with an award for being a Good Egg and Andy Bolan spoke generously on behalf of the players.
Your scribe and The Fount were rounding off a jolly evening with a glass of something warming back at the Hotel when it first became apparent that the earlier doubts about the EOTP were accurate. Of course, JK was in a difficult position. He is clearly not (yet) an OF*, as his performances on the field demonstrate, but it may just have been a mistake to identify so closely with his sons' generation on this occasion. On the other hand, without that mistake we would not have been privileged to see his wonderful impression of Mr Pastry (younger readers please google) when passed the ball the following day.
That was during the final match back at Gouvia on 9th April. What was billed as a combined Corfu side certainly looked the best we had faced when we batted first. That we reached as many as 172-4 off our 25 overs was down to sound contributions from Harry Kennedy (61) and Angus Spratling (31), followed up with an important late flourish (including three sixes in the last over) from Harry Thomas (32no). There was a reverse situation when we fielded with a confident start (99-2 off 16 at one point) halted by an excellent spell from Andy Bolan, thankfully bowling his proper off-spin in taking two wickets and slowing the run rate at a crucial time. Even Mr Pastry pulled himself together to hold the key catch and added two wickets of his own. In the end it looks easier on paper (145-7) than it actually was for much of the time.
There was still time for another twist in which more terrible weather on the following day delayed half the tourists' return flight by 24 hours. At the time it was unwelcome but in retrospect it did nothing to spoil another lovely, happy, sociable week together. It might have been desirable to have longer matches and more cricket, and there were few opportunities to socialise properly with our opponents but these are minor points. We had the first week in April all together in a cricketing environment and (mainly) in the warm sunshine. We played against predominantly native Greek sides and perhaps made a very small contribution to the continuation of the cricket tradition in this charming but unlikely location. Who could really want more?
That all this was possible is down again to the wonderful and genial Stewart Peet and to Captain Peter Pan, well qualified to be an OF* but definitely not there yet. Please be nice to them for the foreseeable future in the hope that there will be another such enterprise someday soon.
Peter George
* Important Footnote. This common and rather coarse abbreviation is used wholly affectionately throughout to indicate those Wise Old Birds whose playing days are o'er and has no unpleasant or critical connotations whatsoever.